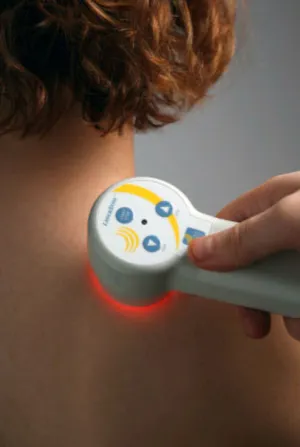 LASER PAIN CENTER AT WATERDAM PHYSICAL MEDICINE
Multi Radiance Laser Light Therapy
Designed to lessen pain and promote healing by using a combination of pulsed low level laser, thermal infrared energy and visible red light. The different wavelengths of light (visible and non-visible) used together penetrate to various tissue depths and create a therapeutic effect. Light energy (not heat) will create a biomechanical effect at the cellular level. Overheating is not an issue with this type of unit because it is using pulsed light energy. It is indicated for use with muscle pain and spasm, joint pain, arthritis pain and many other conditions. There are many different recommended treatment frequencies using laser light therapy. Protocols are unique to the body part being treated. Please call for a consultation to answer any questions.
CONTRAINDICATIONS
As with any treatment/ modality there are contraindications for use. Absolute contraindications include pregnancy, carcinoma, fever, use near a pacemaker, open wounds.
There are secondary considerations to remember as well.
Oral anti-inflammatory medications and recent steroid injections may inhibit the effects of the laser therapy. Dr. Todaro recommends using a powerful anti- inflammatory supplement containing turmeric in conjunction if you need something instead.
Tattoo pigmentation may affect light absorption/ penetration
Direct exposure of the treated areas to other intense light sources such as UV lamps may cause excess heating.

CHRONIC CONDITION (OVER 3 MONTHS OLD) THAT HASN'T RESPONDED TO OTHER THERAPIES YET?
This is a useful option for various chronic pain patients who have not had the necessary amount of relief from other therapies and modalities to improve their function and wellbeing. Once an injury becomes chronic the body can sort of forget about trying to heal itself and instead reduces blood flow, nerve conduction and muscle strength which will ultimately causes new injuries. The laser light (photons) will give those damaged tissues the energy to resume the healing process.
How Does Low Level Laser Therapy (LLLT) Work?
According To Low Level Laser Therapy
by Jan Turner & Lars Hode (Prima Books),
"Low Level Laser Therapy (LLLT):
Reduces pain by causing the production of natural pain killer endorphins.
Reduces inflammation by suppressing inflammatory enzymes that create swelling, redness, pain, and heat and enhances the release of anti-inflammatory enzymes.
Enhances lymphatic drainage, which increases circulation and speeds healing.
Stimulates the release of helpful healing enzymes.
Releases tight muscles (both smooth and striated) that create chronic pain, joint problems, and decreased mobility.
Speeds bone repair by stimulating fibroblastic and osteoblastic proliferation.
LLLT in the correct frequency appears to be antiviral, antifungal, and antiherpetic."

Low level laser therapy repolarizes sick or injured cells, allowing them to once again take in oxygen and nutrients and pass out wastes and toxins. LLLT reestablishes the permeability of the cell, while at the same time donating photons to cells and Mitochondria, which is directly converted into AdenosineTriPhosphate (ATP), the chemical energy required for healing and rejuvenation. With all of these beneficial effects it's no wonder that LLLT is used in hospitals, clinics and private practices worldwide in all developed countries and has a 30 plus year proven track record.
*** IT IS IMPORTANT TO REMEMBER THAT THE APPLICATION OF LASER THERAPY TO ASSIST IN ACUTE PAIN AND MORE FULL HEALING IS PART OF A PROCESS LIKE ANY OTHER MODALITY OR THERAPY AND MUST BE DONE IN CONJUNCTION WITH THE PROTOCOLS ASSOCIATED WITH A GIVEN CONDITION. TYPICALLY, TREATMENT REPITITION FALLS BETWEEN 5 -10 VISITS AND SHOULD INVOLVE SOME HOME CARE INSTRUCTIONS.